"

Sophie Dorsten is one of the most talented singers I've ever heard in my life. Not only does she have an angelic voice, but her vocal range is hella impressive." - QD
Bio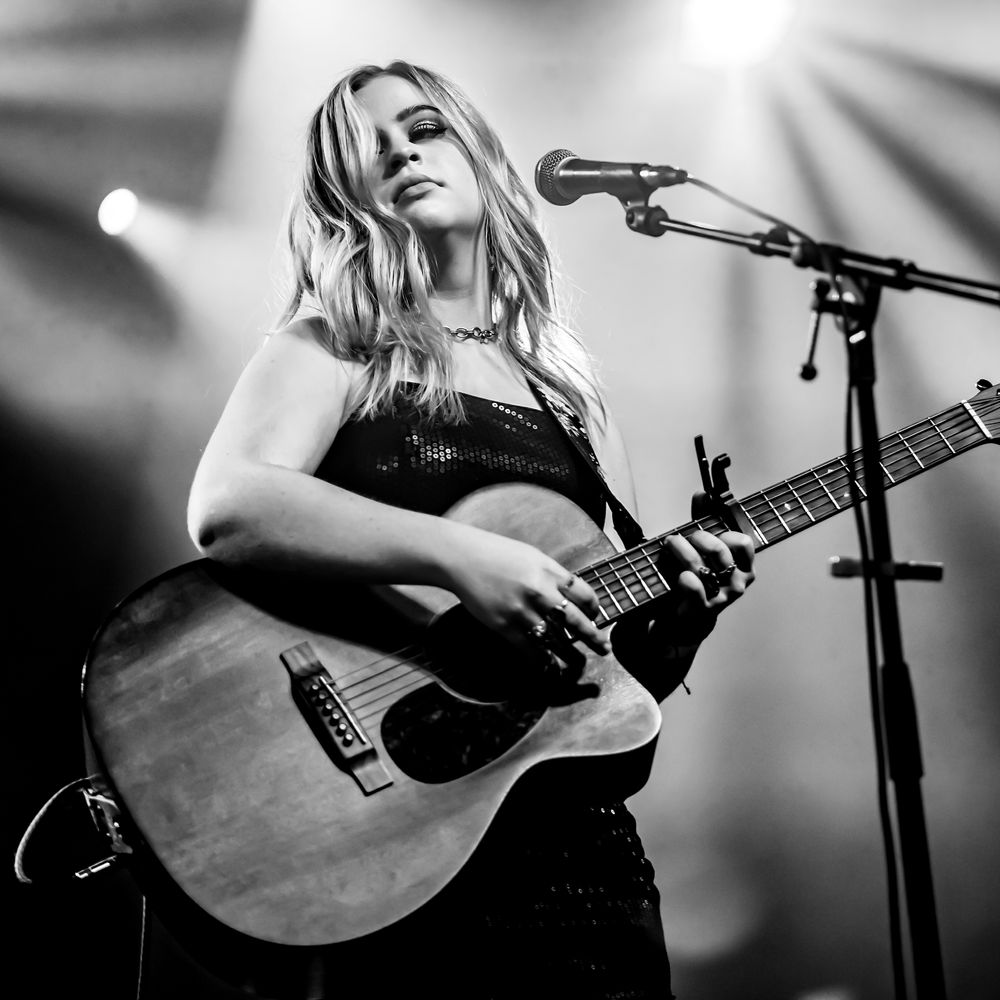 Sophie Dorsten
Singer/Songwriter
Award winning, international recording artist Sophie Dorsten is an Indie-Pop/Alt Z singer-songwriter born and raised in the Phoenix area. She has been singing her strong, dynamic sound around the Valley and beyond since she was 9 years old. #littleblondegirlbigvoice
In the beginning, she and her brothers were in a band called Sophie and The Boyz, as she sang and played bass guitar. After several years the band broke up and she picked up the acoustic guitar and taught herself as she wrote songs and learned fun covers.
Sophie has been writing and releasing EP's and singles since she was 13. Her single "Tomorrow" which was recorded in Nashville just prior to the Covid lock down and released in May 2020 was received with great reviews. "I wrote this song about the unknown of what tomorrow brings."
When the world shut down and the live shows stopped, her brother Alex moved back home from college, and they joined forces and started creating songs together. They write and record in their home studio and have released songs since November 2020. They work well together as you can hear on their songs - the lyrics, music, creativity, and production are beyond their years. 
In March 2022 Sophie and Alex had the opportunity to travel to London, England to record at both RAK Studios and Abbey Road Studios, Studio Two. They were also able to perform at several amazing venues in the London area - Foklore Hoxton, Piano Smithfield, and Beach Blanket Babylon, Notting Hill all thanks to their wonderful team with WorldSound and American Artiste.
Sophie has won several awards including Best American Indie Act 2021 from Radio WigWam, World Songwriting Award for Best Music Production (Until June), Best Indie Song ('Sea Salt') and Best Collaboration ('Reflections' w/3Mind Blight) for the Spring 2021 Clouzine International Music awards and Best Indie song (Until June) for the Fall 2021 awards. She also was the runner up for the Radio WigWam Online Radio Awards for Best Female Artist 2020.
"The first thing that comes to mind when I think of Sophie Dorsten is: BIG VOICE! This young artist from the Phoenix, Arizona area can sing with the best of them proving she has the chops to go a long way in the music business. I honestly think that Sophie could sing the alphabet and it would sound like a million bucks!"
Jimmy Rae, SkopeMagazine, October 2020
Sophie has been a part of Alice Cooper's Solid Rock teen center for the past several years volunteering her time in both giving vocal lessons as well as performing at big events held. She has competed in Alice Cooper's Proof is in the Pudding competition and won 2nd place in 2018. Sophie even performed back up vocals with Alice Cooper at a press release party at the teen center - what a blast!
Sophie has performed the National Anthem for the Chicago Cubs, LA Dodgers, SF Giants, and Oakland A's for several years during Spring Training, as well as the City of Mesa's 2019 4th of July celebration for both the Naturalization ceremony and right before fireworks. What an honor!
Sophie is regularly played on on-line radio around the world including Indie Star Radio, Radio TFSC, Radio WigWam, Heart of Indie, OrangeHat Radio, Pluto Radio, and so many more; as well as local radio KWSS 93.9 , azlive.com and more!
Venues Performed At
Venues Sophie has performed at: 
Marquee Theatre     Crescent Ballroom     Last Exit Live     The Listening Room     Rhythm Room     Larsen Art Gallery     Tempe Center for the Arts EDGE Happy Hour      The Rebel Lounge     Mesa Art Center      The Van Buren     Celebrity Theatre     Valley Bar     Pho Cao     The Lost Leaf     Copper Blues Live     Grand Central Coffee Co.     Queen Creek Olive Mill     Garage-East     SoZo CoffeeHouse     Axiom Gallery     Alice Cooperstown     Duck and Decanter     Whiskey Row Gilbert     The Pressroom     Postinos Gilbert     Peacock Wine Bar     Tempe Marketplace     Desert Botanical Gardens     Gordon Biersch                   Mesa Music Fest       Tempe Festival of the Arts     Rattlers Pre-Game Event     Hard Rock Cafe     Barnone     RAT Race event      Harvey American Public House     Tom Ryan's      Bourbon Jacks                  Windmill Winery     Javalina Leap Winery      The Sandbar     Dos Gringos     SocialBox     JoJo CoffeeHouse     The Monroe     City of Mesa Lightrail Groundbreaking     Paradise Valley Community College     ASU MU     Paradise Valley High School     Alice Coopers Solid Rock     Gilbert Off-Street Art Festival     OdySea Aquarium     Monterey Court - Tucson     The Farm at South Mountain
Articles & Reviews
 Love this review of 'Butterflies' 
'Once Sophie starts singing, you listen and get hooked in with her powerful voice & range. Sophie's voice is one amazing instrument in itself and seems to get better with each new release. Sophie's latest single is titled "Butterflies" and includes her talented brother Alex Dorsten."
https://skopemag.com/2022/02/28/sophie-dorsten-spreading-her-musical-wings-with-butterflies?fbclid=IwAR3Cg1ABvdq8Ejc5H1Qxb5CjgzA1ro9lsvbJqhGmEv5cQIwwfV0xPg6ZAoc
So awesome - please check out this review of 'Receipts'
"Sophie is simply singing her heart out on this new song while showcasing an amazing vocal range. Alex Dorsten plays like a seasoned professional with stellar guitar chords being strummed. This brother/sister duo has done it again and achieved greatness with their latest project called 'Receipts'..."
https://skopemag.com/2021/10/26/sophie-dorsten-with-electrifying-performance-on-receipts
Love this article from Ryan Clark, Ghost Writer 
(short quote from the awesome article)
....Oh, this one, #TakeCoverArizona! Sophie and Alex unleash the arsenal. They pull out the stops, show you the tools, and ravage you, woo you, crush you to the floor and beg you to "just be honest, ohhhh. say that you love me… I KNOW YOU DON'T"….. and then that voice…. oh it echoes…..it lures like a Siren from the depths… just in the distance…. like a ghost distantly fading into an oubliette with the receipts from heart stains littering her wake. Alex comes in hard, making his presence pronounced, loud, and simply beautiful. Crashing chords. Understated finger picked sticatto moments, and almost a spanish lullaby close. This song just might have it all, music fans! Sophie came out of a Pandemic, nineteen, experienced, and ready to show the world she is not Just A Little Blonde Girl...
 https://keepthegreasysidedown.com/the-golden-songbird/
Thank you Jimmy Rae for a beautiful review of Until June!
 It's an honor, privilege and blessing to get to work with the uber-talented Sophie Dorsten once again! From the first moment I heard this young, female artist I knew I was witnessing greatness in its early stages. Sophie Dorsten can do no wrong when she sings and harmonious notes come rushing out of her voice box. I've said it before and I'll say it again until I'm blue in the face, Sophie Dorsten is such a raw, pure talent with an incredibly, BIG voice! 
Sophie has teamed up with her brother, Alex Dorsten, once again to create a musical masterpiece called "Until June". This song is even more special because it was released on Sophie's birthday, which was May 28th, so plenty to celebrate! I thoroughly enjoyed listening to "Until June" because the track has such a pleasant vibe that instantly pulls you in. As soon as I hit Play, I am hearing impeccable playing on acoustic guitar that caught my interest right away. Then, Sophie's amazing voice jumps in and "Until June" is blossoming right before your very ears. The listener will pick up on a lively sound while also hearing an angelic voice and warming vocals coming from Sophie. Sophie Dorsten is singing to the stars & heavens here as the sister/brother duo knocked it out out the park! One will pick up on a peaceful sentiment on "Until June" that flows along throughout the entirety of the recording. "Until June" offers a very appealing tone with Sophie singing like a well-polished Pro and Alex Dorsten playing like a true champ. Sophie Dorsten has such a vast range vocally, lyrically and musically and proves it on "Until June". This young, female artist has an extremely bright future ahead as Sophie & Alex Dorsten deliver one amazing performance! 
Sophie and Alex had an incredible cast of professionals on this music project including: Mark Needham on mixing and Marcussen Mastering who mastered "Until June". Sophie's single will be distributed by Ingrooves and Universal Music Group while Sophie is managed under Dorsten Records. Her label is WorldSound and some exciting news is that with WorldSound's help, Sophie will be releasing a new song for the remainder of 2021 with an EP in the works. Sky's the limit for Sophie Dorsten and it's scary to think what this rising star will cook up next! In the meantime, savor "Until June" in all its glory because Sophie Dorsten proves that brothers and sisters can get along just fine while also making phenomenal music in the process! The wait is over; "Until June" has arrived and you can stream it right here and SKOPE out the official lyric video:
 https://skopemag.com/2021/06/16/sophie-dorsten-full-of-sunshine-on-new-single-until-june?fbclid=IwAR0jjsCH754ZenEHlK7I4Bw7zOKSU0zG3KbzkebiH3WWUKM9XN-0F1SJhuo
I love this review of Until June by Dave Franklin - Dancing About Architecture, June 9, 2021
"It was great to hear Sophie Dorsten's collaboration with 3Mind Blight recently, the resulting Reflections seeming to be a musical creation that was so much more than the sum of its very different artists. But it is still great to have her back making the deft and delicate music that is slowly becoming her signature sound. 
Until June feels like it is peak Dorsten, taking the cinematic indie vibes, the ambient dreamscapes, the pop melodicism and the expressive and thoughtful lyrics of her previous songs and weaving together a song that could probabaly act as a sonic resume and calling card for her as an artist. 
Not only is it a gorgeously lilting, gently waltzing piece of indie pop, one oozing both with warm summer vibes and chilled grace, but it is also the sound of an artist finding and exploring their sound to the fullest. Not to say that what has good before was in any way not hitting the mark, most artists would kill to have any one of her songs in their back catalogue. But this feels like everything coming together, a real step up, a raising of personal benchmarks. 
And, as good as the music is, the understated dance it follows, the space it allows itself, the way that it moves from gently picked guitars to more soaring sonics, the icing on the cake is Sophie Dorsten's voice and particularly her ability to sound intimate and dreamlike at one end of the vocal spectrum but show real control and confidence at the other. 
In a series of great songs so far, Until June sees her totally hitting her stride. And if she can produce songs this well-crafted at this stage in her career, imagine what she will be doing in a year from now…or ten! It's going to be worth following her career closely to find out."
 https://dancing-about-architecture.com/until-june-sophie-dorsten-reviewed-by-dave-franklin/
Honored to be on the Fresh Faves - Batch 408, Tobisonics,  June 8, 2021 
 "Born and raised in Arizona, indie-pop singer-songwriter Sophie Dorsten delivers a delightful dose of dulcet downbeat Americana to the FOTN inbox, latest single Until June. Until June is the young artist's third solo release, and third collaboration with her brother, Alex; with Alex taking the reins for production, orchestration, and instruments while Sophie wrote the song and sang. Swaying in gracefully percussive layers of acoustic six-strings; the track moving pendulum-like around the heavy beat of a kick drum bedded deep, giving the composition a wondrous earthy feel; backing harmonies calling out across the soundscape, haunting and melancholic. Sophie's vocals float tall in rich, toneful expanses of glorious melody, intoxicating the ear; her performance conveying the weary longing of the lyrics with great and compelling success; her voice lingering in the depth and shifting wide left/right in ambient echo, evocative of Mazzy Star in its vocal treatment. Until June avoids the gimmick and novelty of many modern productions, instead relying on a firm musical base, expressed by way of highly creditable musicality. "
https://freshonthenet.co.uk/2021/06/faves408/
 Thank you so much to our local paper - The Gilbert Sun for this article on Alex and I. June 20, 2021
Please check it out...
https://issuu.com/timespub/docs/gilbert_sun_news_0620/1?e=8633901/85893638 
I love this spotlight feature from Lean for the CoolTop20, December 11, 2020
"Sophie Dorsten (USA) is our Cool Top 20 sweetheart; she's always supportive of other artists. She's also the girl with the incredible powerful voice of an angel, and she has star potential. At just 18 years old, Sophie is a singer-songwriter talented beyond her years. Since the age of 13 Sophie has released several EP's and singles. Time to learn a little more about Sophie."
 Click here for full article....  https://t.co/T6usRddBpt?amp=1 
Thank you Rick Moore for the wonderful article in American Songwriter...
"The darling of the Phoenix-area music press, Dorsten is known for her powerful and versatile voice..."
https://americansongwriter.com/sophie-dorsten-discusses-her-new-single-reflections-and-singing-with-alice-cooper/
SOPHIE DORSTEN IS OUR INCREDIBLE WEEKLY WORDSMITH  
At just 18 years old, Sophie Dorsten is a singer-songwriter talented beyond her years.  
Sophie begun her ventures into music at the age of just 9, performing in a band alongside her brothers playing bass guitar and singing. Aptly titled band 'Sophie and the Boyz' performed together for 3 years, an experience that introduced Sophie to the world of music and live performance.  
But all good things come to an end, Sophie explains…"The little band broke up and I taught myself guitar and started writing songs. I wrote and recorded my first EP when I was 13 and have not stopped." Sophie Dorsten has been honing and perfecting her craft ever since, creating an acoustic-pop sound that is a pleasure to listen to.  
Our first introduction to Sophie was through her single 'Tomorrow'. An easy listening tune featuring Sophie's ethereal vocals, beautiful harmonies and soft pianos. The track is a must listen, see for yourself.  
"I wrote 'Tomorrow' about the unknown of what tomorrow brings. For me it was because I was a senior in high school (yes, I'm a 2020 grad!) and I didn't know what to expect after graduation. As it turns out, none of us knew this all would be happening, and I feel the song has taken on a new meaning because of Covid. 'I can hardly breathe now, how do I breathe Tomorrow…' defines the song; we do not know what tomorrow holds…but it's alright, it'll be ok."  
So what's next for the talented Sophie Dorsten?  
"I have been using this strange time of no shows to write and paint (art calms me and helps me re-focus.) I have several songs in the works and hope to be going back to Nashville to record them as soon as possible. I am also working on a music video for 'Tomorrow' on my own – the original plans were changed with everyone in quarantine, so I made a new plan and I'm trying to finish that."  
This incredible songwriter has already made her mark on music at the tender age of 18. With plenty more music in the bank, there is so much more to come from Sophie Dorsten.  
Find, follow and support Sophie. 
Jessica Rowe, MonkJackPublishing , September 10, 2020
"The first thing that comes to mind when I think of Sophie Dorsten is: BIG VOICE! This young artist from the Phoenix, Arizona area can sing with the best of them proving she has the chops to go a long way in the music business. I honestly think that Sophie could sing the alphabet and it would sound like a million bucks!
I've had the chance to work with Sophie Dorsten in the past, but this project is even more unique and special. "BabyDoll" is a collaboration between Sophie and her brother Alex Dorsten. The two siblings united to create a wonderful piece of music that is comforting and precious much like a "BabyDoll" would be to a little girl. Sophie decided to go in a different direction with this release by taking more of a Pop-friendly route rather than her usual Pop/Folk approach. I can say that Sophie Dorsten and her brother nailed it because "BabyDoll" is hitting on all the right notes!
As soon as I hit play, that powerful voice hits me like a ton of bricks with Sophie singing her heart out. The style of "BabyDoll" offers up a catchy hook and what I like to refer to as POP-LISCIOUS. This single in most certainly radio-friendly as I could picture myself listening to this vibrant tune on any local, Top40 station. The style definitely pops out and entices your ears with one massively appealing sound. Sophie Dorsten sings with such passion on "BabyDoll" showcasing her delicate & robust vocals. Sophie's strong vocal performance is on full display for ALL to hear and the result is magnetic.
Sophie and her brother Alex Dorsten did an excellent job on this track as I truly appreciate their drive and ambition to try something new. The intuition paid off big-time because "BabyDoll" highlights the talented brother/sister duo as a force to be reckoned with in the music world. Sophie and Alex Dorsten will be releasing another song very soon and that is news worth hearing and knowing! In the meantime, be sure to sing your musical teeth into Sophie Dorsten's "BabyDoll" as you appreciate & embrace every last note and verse. Sophie Dorsten is here to stay."
Jimmy Rae, Skope Magazine
 October 24, 2020
https://skopemag.com/2020/10/24/sophie-dorsten-standing-tall-with-babydoll?fbclid=IwAR1eoqnHst9h0m7HjxzStknHKa7lRalVezUjDfNmfHLddu7P2tthCnQLsAA
"This Arizona high school senior doesn't know what the future holds. So she put it into song"
Ed Masley, azcentral.com, May 2020
https://www.azcentral.com/story/entertainment/music/2020/05/17/arizona-high-school-senior-sophie-dorsten-new-song/3121256001/
"Tomorrow" will give you both chills and goosebumps at the same time.
Sophie Dorsten is one of the most talented singers I've ever heard in my life. Not only does she have an angelic voice, but her vocal range is hella impressive. On "Tomorrow," Sophie's upcoming single, she blooms by letting her heart bleed and by singing fearlessly.
From the moment you press play on "Tomorrow," you will be submerged in it's lively production, mind-blowing harmonies, and beautiful melodies. Additionally, you will love how Sophie pieces herself together lyrically on the song, as, throughout it, she talks about finding a way to make tomorrow a better day than yesterday by being both positive and optimistic."
QD, The Ratings Game, April 15, 2020
https://ratingsgamemusic.com/2020/04/15/sophie-dorsten-gifts-us-with-a-stunning-performance-on-tomorrow/
"This young lady, seventeen years old and a senior in high school ladies and gents, has got a sledgehammer of a voice!"  
-Ryan B. Clark, Ghost Writer, Keep the Greasy Side Down, January 30, 2020
 https://keepthegreasysidedown.wordpress.com/2020/01/29/phoenixs-rising-songbird-sophie-dorsten/
"This 16-year-old singer-songwriter has been blessed with a voice that's nothing less than spellbinding, which she uses to brilliant effect on the emotionally vulnerable ballads that make up her latest recording, a breathtaking three-song collection called "Roses." 
Ed Masley, azcentral.com, January 11, 2019 
https://www.azcentral.com/story/entertainment/music/2019/01/02/best-local-music-phoenix-maine-ajj-co-op-rhythm-room-house-party/2436123002/
"When I first heard Sophie's voice I could not believe such a mature sound came out of a 16-year-old. Blew me away. Her new EP Roses is a sampling of not just her talent in music, but also in writing. She also recently did a live version of "O Holy Night at a Proof is in the Pudding music competition that literally brought tears to my eyes (the good kind.) She plays many gigs valley-wide so plenty of opportunities to catch this rising star."  
Dani Cutler, KWSS, December 10, 2018 
"I had the pleasure to review Sophie Dorsten's single, "Roses", last year and knew that I had come across a one-of-a-kind artist, (http://mi2n.com/press.php3?press_nb=207319).  This Phoenix-based singer/songwriter may be a teenager still in high school, but Sophie sings and performs like a seasoned pro.  Sophie Dorsten is a true talent with star potential and you will see why after listening to her latest single, "Growing". 
Dorsten's new song is dedicated to her mother, but also to anyone that has someone very special in their life.  The track is all about love and how one's love for another person can withstand anything in this life.  This Indie/Folk songstress has created a song that is extremely moving and meaningful.  You can sense that Sophie is singing straight from the heart on "Growing" with a touching tribute to her mom that can relate to so many people out there.  The listener will pick up on a warming & comforting sensation just as a mother would console her daughter.  I am simply blown away by Sophie's strong and powerful vocal performance on this song.  Sophie Dorsten has got pipes and she is not afraid to use them as she proves she can sing with the best of them!  "Growing" also contains a wonderful melody that will pull you right in and not let go.  One will hear big, bright notes coming from Sophie as this young songbird will captivate you with her amazing voice alone. 
Sophie has been singing & performing since she was 9 years old and I see no slowing down for the young artist.  With three EP's already under her belt, I can't wait to hear more from this powerhouse singer and genuine songwriter.  Lyrically, musically and vocally, Sophie has got it all and then some!  Sophie Dorsten is still "Growing" but she has already blossomed into a fine-tuned & polished singer/songwriter.  With endless potential for this special talent, I look forward to hearing more, high-quality recordings from the Arizona native.  I'd also like to add that the appealing cover was actually painted by Sophie herself proving that she also has a knack for art as well.  The song is "Growing" on me and Sophie Dorsten is "Growing" into a giant, musical force that is ready to burst onto the scene!"
Jimmy Rae, Skope Magazine, January 7, 2020
https://skopemag.com/2020/01/07/sophie-dorstens-new-single-roses?fbclid=IwAR2ikN8lgk1WY0NLVQ0oZYvmVZ7YWz7qhM0iU9RI-c7hA1tqbHIIkTORcWw
"When you first hit Play, you will hear the sweetest melody from a songbird named Sophie Dorsten. I was shocked to discover that Sophie is only 16 years old because she has such a refined, professional-sounding voice. Her latest single is titled "Roses", which is also the name of her new EP. Sophie Dorsten's song is like a dozen roses in full bloom bursting with freshly picked notes.  
Sophie Dorsten hails from Phoenix, Arizona and has been performing since she was only 9 years old. This Indie/Folk singer/songwriter sings & performs with such passion and tremendous heart. Sophie's vocals & lyrics on "Roses" are vibrant and organic to the core. Sophie sings with such a soft 'n' distinct tone and she has a way of drawing you in with her voice alone. Add in a full richness of sound from the acoustic guitar and tender lyrics and you have one complete song in "Roses".  
Sophie has already released 3 EP's and she's still just a teen. But, this is no ordinary teenager because Sophie Dorsten has already blossomed into a seasoned vocalist & artist. This young songstress is bursting with talent & potential and honestly it's scary to think what material is yet to come from Sophie Dorsten. "Roses" showcases Sophie as a true storyteller & musician who looks to take the music world by storm! This Phoenix native already exhibits all of the right tools & skills to make it BIG with her strong voice & presence. Lyrically, vocally, musically & artistically, Sophie Dorsten is the total package with the perfect bunch of bright "Roses" on full display." 
Jimmy Rae, Music Industry News Network, October 2, 2019  
http://mi2n.com/press.php3?press_nb=207319
"Blurring the lines between folk, dream-pop and chart accessibility, Roses, the title track of her EP, is a charming and graceful calling card. It revels in space and atmosphere, restraint and understatement, the beat doing only enough to provide sonic hooks to hang minimalist music on, the guitars used sparingly, the bass line merely punctuation points. All of this leaves her vocals the focal point of the song and what a great voice it is too. Able to wander between emotive voice,-as-instrument deliveries, and heart-felt pleas, there is something simultaneously beautifully human and eerily otherworldly weaving together at the heart of it all.  
Roses is proof that young, would-be pop artists, though even as I write the word it seem woefully inadequate to describe what's going on here, don't have to follow the conventions imposed by those around them, that you don't have to fall for the industry pressures to deliver quickhits and throwaway crowd pleasers. This is music being made for the long game. And if she is making music this mature at 16…yes, you read that right….16, imagine what she might be doing three or four years from now. Definitely one to keep a very close eye on." 
Dave Franklin, Dancing About Architecture, September 5, 2019 
  https://dancingaboutarchitecture.info/2019/09/05/roses-sophie-dorsten-reviewed-by-dave-franklin/
"Based out of Phoenix, Arizona, the highly-talented singer and songwriter Sophie Dorsten blesses us again with another great song entitled Roses. The pop/folk songstress has a very unique voice with a homegrown organic sound that complements her approach to music.  
Roses is the title track from Dorsten's new EP. The song is musically-crafted through a fabulous array of instrumentation, including acoustic guitar, strings, and an immense vocal performance by Sophie Dorsten. it is almost as if everything that Dorsten's voice touches turns into gold. Dorsten is able to carry her audience into the clouds with the theme of surviving heartbreak and coming to grips with what was. Bravo!" 
Warlock Asylum International News, September 8, 2019 
https://warlockasyluminternationalnews.com/2019/09/08/roses-by-sophie-dorsten/
""Roses" is taken from Sophie Dorsten's EP, which is also titled Roses. Dorsten is a sixteen-year-old singer (that's right; just sixteen), and "Roses" is a moody, acoustic guitar-driven ballad. Dorsten sells it with a precociously lovely voice.  
Dorsten is a self-described indie/folk singer that calls the Phoenix, AZ area home. If you think sixteen is a young age to be recording music, you should also know Dorsten's been performing since she was the tender age of nine. Back then, she was in a band with her brothers called Sophie and The Boyz, where she sang and played bass. After a long stretch as a kind of family band, though, Dorsten set out on her own. She taught herself how to play guitar and write her own songs. She also chose to cover songs she really liked. She's released three Eps of solo music, so far, with the first being Beauty of the Heart, which she put out at just thirteen. She's worked with Alice Cooper's Solid Rock organization in Arizona, and even volunteers as a vocal coach. After all, at sixteen, she's already a musical veteran.  
With "Roses," Dorsten sings like a true adult. One must wonder, what with a song and EP title like Roses, if Dorsten was inspired by another folk singer. One who was not an indie artist – indie didn't even exist at the time – but a commercial artist, named Joni Mitchell. For the Roses, was Mitchell's fifth studio album. But whereas Dorsten sonic is fairly stripped down, Mitchell worked with jazzer Tom Scott, and featured Graham Nash and Stephen Stills on backing vocals. Nevertheless, it's nearly impossible to imagine modern folk – even the indie variety – without the pioneering work of Joni Mitchell. Before Mitchell, it was rare to hear a woman write and sing highly introspective, scarily vulnerable songs. She was one of the first, and still after all that have come after her, one of the best.  
Dorsten draws from Mitchell with the heartfelt nature of this song. She also sings beautiful high notes, the way Mitchell used to do, before smoking gave her voice an equally enjoyable husky tone. Dorsten has the sound down, although one must wonder how much real life love she's experienced. At sixteen, one is still a few years shy of adulthood. Even Maria McKee, back when she fronted Lone Justice at a young age, still had some living to do. What McKee lacked in real life experience, though, she more than made up for by educating herself on country music history. She may not have lived that life, but like any good actress, she learned her part well.  
Clearly, Sophie Dorsten has a talent to be reckoned with. I once overheard someone describe a band has being good; they just hadn't sinned enough. We're not wishing Dorsten a life of sin, in order to become more believable. However, more life experience will give her music much more depth. With a voice like hers, though, she really has a chance to go places. Let's hope everything comes up roses for Dorsten in the future." 
Skope Mag, September 10, 2019 
https://skopemag.com/2019/09/10/sophie-dorsten-new-single-roses-from-her-ep-roses
"Sophie Dorsten sings with pure love on the passionate "Roses". Lyrics have a poetic aura to them. The arrangement perfectly accompanies her over the journey of her engrossing storytelling. A delivery that recalls Joanna Newsom at her most soulful, the entirety of the piece works wonders. Carefully taking her time she makes sure every element falls into place with the utmost of care. Folk, country, and chamber pop merge into one singular cohesive whole. By refusing to fully settle into any one of these styles she goes for something that has a timeless air to it. Instrumentally too the song has a colorful, flexible quality.  
The nimbleness of the acoustic guitar introduces the piece. From there it all unfurls in a gorgeous haze. Gentle, graceful gestures come about as her vocals enter the mix. With a bit of longing the song comes into bloom upon the inclusion of the drums into the mix. Strings, piano, and more combine to create a stream of consciousness quality. Virtually weightless the entirety of the piece radiates such undeniable warmth. Letting all of it slowly fade out halfway through points to the cyclical nature of the piece. On the latter half of the work things truly shine, for the tension from the first half becomes resolved with such satisfaction.  
On "Roses" Sophie Dorsten explores a pastoral beauty, one that unfolds on its own terms, with a romantic quality that permeates the entirety of the piece." 
Beach Sloth, September 6, 2019